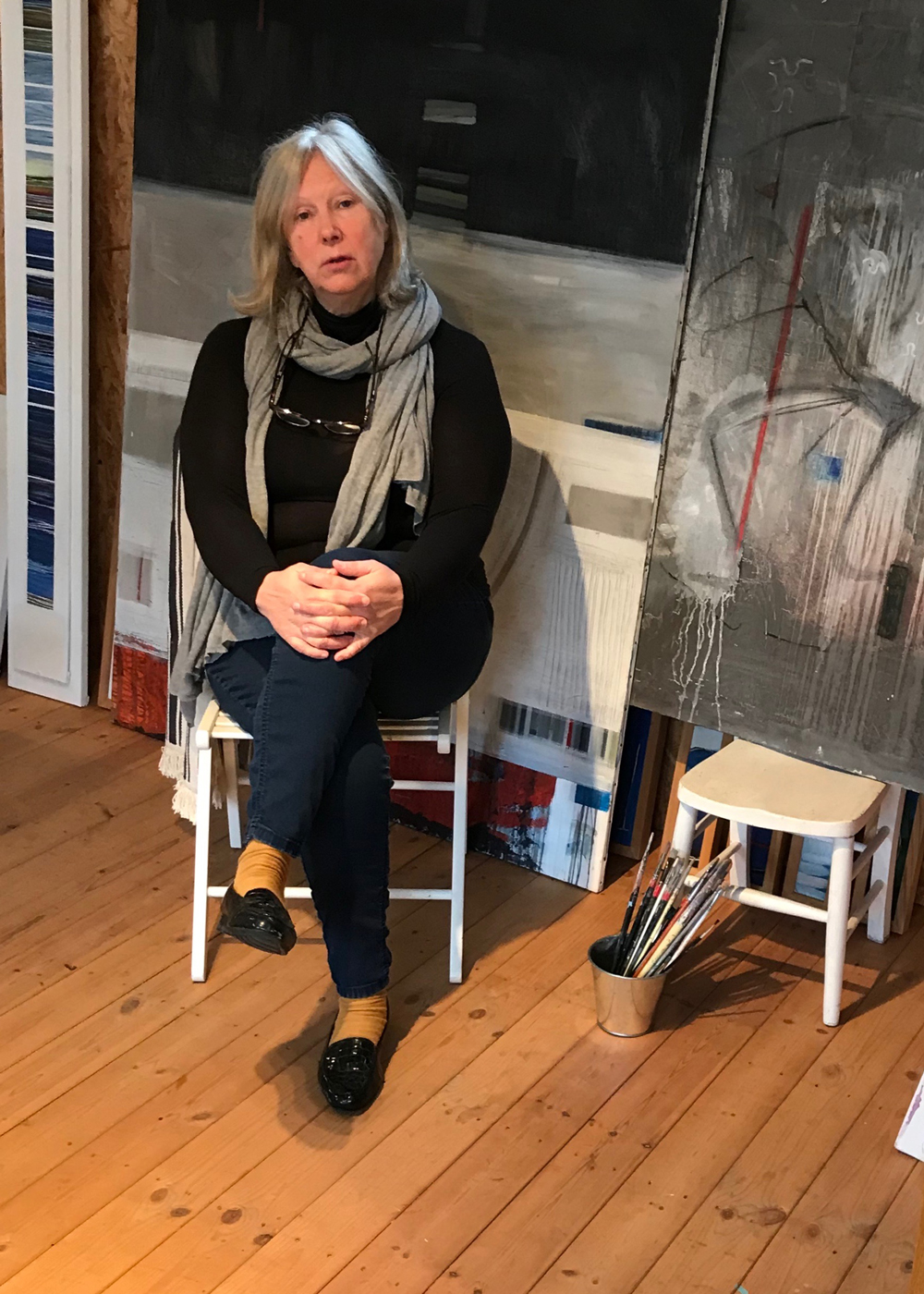 PERSONAL STATEMENT
My work is continually evolving which is influenced by the environment and memories of a lost era. Creating art is always challenging but can be extremely rewarding whatever the outcome.
Studying Art, Art History and creating art has always been a passion and staying true to myself. Over the past three decades I still find myself searching for my own aesthetic response.
During this first part of the 21st century we live in a never, ending bombardment of visual in all aspects of the social media. Our senses are overloaded by the mass of information and it is with this in mind that I try to decipher and incorporate ideas that I have from literal to pure abstraction.
Abstract Expressionism is my passion. I love using bold vibrant colours and am drawn to paring down images until the paint speaks for itself. Expression of thought and emotion play a big part. Prisms of rainbow colour weave their way into my paintings on an unconscious level.
WORK EXHIBITED
EPPING FOREST MUSEUM
Artist in Essex Open Exhibition
Painting purchased for private collection
Award for best contemporary painting
1990, 1994, 1996
BEECROFT ART GALLERY
One Woman Show
1990
Award for best watercolour
1992
"Brandler Gallery Award"
1993, 1994, 1996, 1997
BALTIC EXCHANGE London
1990, 1992, 1993
SOUTHEND ON SEA LIBRARY
One Woman Show
1991
BRAINTREE OPEN EXHIBITION
1993
BRITISH HOME STORES
1994
LAMBETH PALACE London
Exhibition held in aid of the Seaman's Mission
1995
GAINSBOROUGH HOUSE Sudbury
Drawing for all exhibition
1996
BACKSTAGE GALLERY Brentwood
1995, 1996
ROYAL ACADEMY OF ART London
Open Summer Exhibition
1997, 1998
MALL GALLERIES London
In aid of Cancer Research
1998, 1999
PELIGONI, THESI STAVROS Perdika, Aegina, Greece
One Woman Show
1 JULY 2000 – 8 JULY 2000
LEIGH ART TRAIL
Contemporary art exhibition
1997 – 2007, 2017, 2018, 2019
LEDA GALLERY Leigh on Sea
Proprietor
2002 – 2005
IMAGINATION GALLERY
London WC1
OVER THE MOON GALLERY
Cornwall
INKAS THIRD SUMMER
Wiltshire
SHED 29 ART STUDIO
2016 – CURRENT
LEIGH ART TRAIL VENUE 7
SHED 29 ART STUDIO
leigharttrail.com
2019
OPEN STUDIOS CORNWALL
openstudioscornwall.co.uk
25 MAY 2019 – 2 JUNE 2019
POP UP EXHIBITION
Agency 11, Spitalfields, London
September 2019
UNTITLED GALLERY
New York , 10013
October 2019
HESELTINE GALLERY
Truro School, Truro, Cornwall
December 5th – 8th 2019
2020
CORNWALL OPEN STUDIOS
Trevaunance Point House, St Agnes, Cornwall
May 23rd – 31st 2020 (cancelled due to Covid-19)
LEIGH ART TRAIL
Contemporary art exhibition
Details to follow
June 2020 (cancelled due to Covid-19)
POP UP EXHIBITION
Shoreditch, London
Details to follow
July 2020 (cancelled due to Covid-19)
WESTBOROUGH SCHOOL ART PROJECT – HARES ABOUT TOWN
'Healy Hare' on display on the pier at Southend
2020 – 2021
iTS LIQUID – OUT OF BALANCE EXHiBITION
42 Newington Causeway,
London SE1 6DR
2021
Due to Covid, work was on display in window only
at Bodys Opticians, Broadway West, Leigh on Sea, SS9 2BX
2022
LEIGH ART TRAIL
BODYS OPTICIANS
BROADWAY WEST
LEIGH ON SEA, SS9 2BX
2023
WESTBOROUGH SCHOOL ART PROJECT – THE HERD
'Porco Norso' on display at the Beecroft Art Gallery
LEIGH ART TRAIL
St Clements Church
Leigh on Sea, SS9 1PG
TWO TREE GALLERY
13 Rectory Grove
Leigh on Sea, SS9 2HB
21.07 – 18.08
Collaboration – "SHADOWPLAY"
Espacio Gallery
159 Bethnal Green Road
London E7 7DG
04.09 – 10.09
CHRONOLOGY
1955 BORN IN MILE END LONDON
1976 PRE-ART FOUNDATION – WEST HAM COLLEGE
1977 MOVED TO LEIGH ON SEA, ESSEX
1978 WORKED AT SOUTHEND ART COLLEGE
1980 -1993 CONTINUING PRACTICAL AND OBSERVATIONAL INTEREST IN ART WHILST BRINGING UP THREE DAUGHTERS
1993 1st BA HONOURS DEGREE, ART/ENGLISH, ANGLIA UNIVERSITY
1997 POST GRADUATION CERTIFICATE OF EDUCATION – SECONDARY EDUCATION
2002 – 2005 EXHIBITIONS FROM OWN GALLERY –
LEDA GALLERY, LEIGH ON SEA, ESSEX
1998 – CURRENT – TEACHING AT WESTBOROUGH SCHOOL, WESTCLIFF ON SEA, ESSEX
TO DATE:
TEACHING PART TIME  –  PRACTISING ARTIST – WORKING FROM STUDIO 29 CONTINUING PRACTICAL AND OBSERVATIONAL INTEREST IN ART, WHILST BEING A MUM, GRANDMA AND WIFE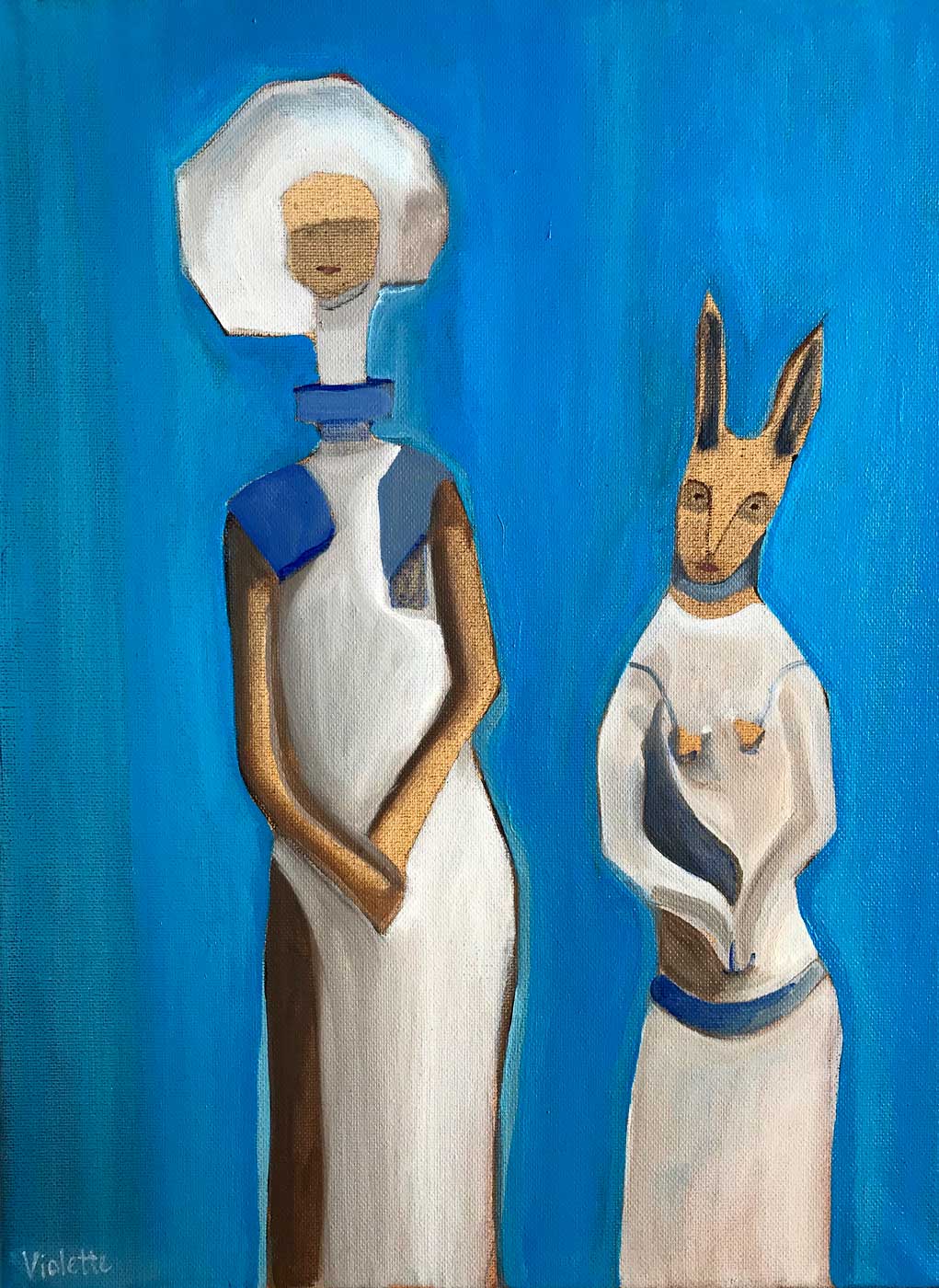 DEFINITIONS
POA : Price on Application – Please email your full name and address / telephone number, along with your painting of interest reference number / title.
NFS : Not for Sale – If interested in something marked NFS, a painting similar in style may be contemplated on a commission basis.  Please contact me.
COM : Commissions –  projects on a larger scale for restaurants, hotels or commercial businesses.